Is Midjourney free? If you're searching for the top AI image generator, Midjourney ai is a strong contender worth considering. Despite not being supported by a major company like OpenAI, it has the ability to produce highly authentic and realistic images. However, it's important to clarify whether Midjourney is available for free or if you need to provide payment details. Here is all the information you need on this matter.
Is Midjourney AI free?
Midjourney Ai is now a paid service with limited promotional periods of free usage. Previously, when Midjourney was launched in July 2022, users could generate up to 25 images for free by signing up for a Discord account and joining the Midjourney server. The free trial would begin as soon as the user sent their first prompt. However, once the 25-image limit was reached, users were required to switch to a paid plan.
In April 2023, everything shifted when the CEO of Midjourney made an announcement to temporarily halt the free trial program. Although this decision has left many potential users disappointed, it is understandable considering the circumstances. Midjourney has gained immense popularity and has been widely discussed on social media platforms like Twitter and Reddit over the past year. Additionally, the latest significant update of their image generator (v5.1) has surpassed many competing products, attracting a large influx of new users.
Fortunately, there is a possibility that free trial access might be reintroduced in the future. As demonstrated with the release of Midjourney 5.1, Midjourney offered a weekend-long free trial once again.
How much does Midjourney Ai cost?
Currently, in order to utilize Midjourney, you must choose and subscribe to one of three subscription plans. Each plan has a higher limit than the previous one, enabling you to generate a greater number of images within a month. Additionally, the top-tier plans offer the option to generate an unlimited number of images if you are willing to wait a bit of time between each generated image.
On average, it takes about one minute for Midjourney to generate a new image. However, if you require an upscaled image or a non-square aspect ratio output, it might take a bit longer. Based on this information, the basic plan allows for around 200 image generations. Alternatively, if you prefer a lower-quality image, the task can be completed more quickly.
Midjourney Pricing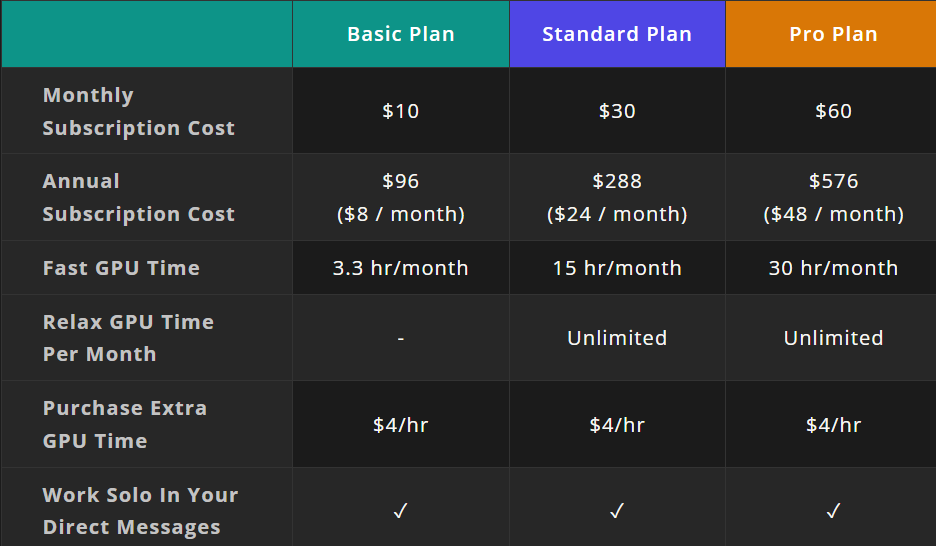 If you like to Subscribe, Go to a Plan https://www.midjourney.com/account/ or use the /subscribe command to generate a link to the subscription page.
Moreover, if you want to cancel subscription, Go to https://www.midjourney.com/account/ to cancel a subscription at any time. Cancellations are effective at the end of the current billing cycle.
Basic Plan
Standard Plan
Pro Plan
Monthly Subscription Cost
$10
$30
$60
Annual Subscription Cost
$96
($8 / month)
$288
($24 / month)
$576
($48 / month)
Fast GPU Time
3.3 hr/month
15 hr/month
30 hr/month
Relax GPU Time
Per Month
–
Unlimited
Unlimited
Purchase Extra
GPU Time
$4/hr
$4/hr
$4/hr
Work Solo In Your
Direct Messages
✓
✓
✓
Stealth Mode
–
–
✓
Maximum Queue
3 concurrent Jobs
10 Jobs waiting in queue
3 concurrent Jobs
10 Jobs waiting in queue
12 concurrent Fast Jobs
3 concurrent Relaxed Jobs
10 Jobs waiting in queue
Rate Images to
Earn Free GPU Time
✓
✓
✓
Bulk download your images
from the Midjourney Website
✓
✓
✓
Usage Rights
General Commercial Terms*
General Commercial Terms*
General Commercial Terms*
Read Also: